My Wedding
---
Date and Location
We are getting married on August 6th, 2000. The ceremony will be at the Wagon Box Inn in Story, WY. It will be an outdoors wedding. The weather will likely be comfortable (not too hot), but it may even be a little cool. Closer to the date I will give information so those planning on attending will know what to pack.
---
The Ring
Here is the story...Zack gave me the ring on January 13, 1999. We went to dinner on Ft. Lauderdale Beach with his friends. He made several different plans to give me the ring. They fell through. After dinner we took a walk on the beach. He had his friends put the ring on the horn of a Beanie Baby unicorn, and then put the unicorn on the sand ahead of where we were walking. As we walked by, Zack said, "What's that?" I told him it was some kid's toy. I told him not to touch it because it was dirty. Then he got on one knee, and showed me the ring. It was very sweet. The ring is on my finger and the unicorn is on my shelf.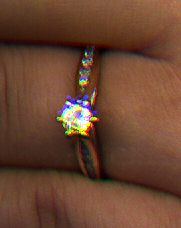 Zack picked out the ring himself. It has 13 diamonds. One center diamond and six down each side. It is really beautiful.
---
The Happy Couple
Here are a few pictures of the two of us.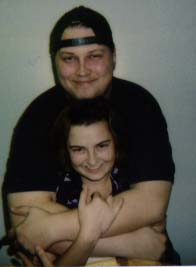 This is a picture of us on our second date.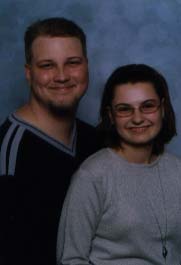 This is our first studio picture together.
---
Our House
As many of you know, we just moved to a new house. This is our first house together (our previous home was a mobile home). Here is a picture of the house. It is the little cute one in the center with the three palms in front.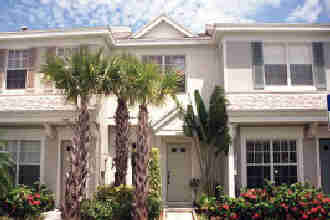 ---
The Colors and Wedding Party
Our wedding colors are royal purple, lavender, and silver. My matron of honor will be my sister, Stacie. My bridesmaid will be Zack's sister, Angie. Zack's best man will be his dad. Shay will be the flower girl. My cousin's daughter, Myranda, will be the ring bearer.
---
Registry
Zack and I are registered at J.C. Penny and at Target. At both sites you can view our registry online. You can also go to any J.C. Penny or Target and get a copy of our registry. If you use Zack's name to access the registry, please remember that he is changing his last name. You will have to use the name on the invitation.
---
The Dress, Cake, and other details
These will be a surprise. You will just have to come to the wedding to find out. I will post pictures after the wedding.
---
Questions? Comments? Email Me